Ensuring that all residents have a completed Advance Care Directive (or plan) can be challenging for residential aged care providers. However, with many residents not indicating their preferences before becoming gravely ill, the absence of this vital document can result in families or aged care managers having to make difficult and rushed decisions when an emergency occurs.  Alternatively, even if an Advance Care Plan written on paper exists, the chances of it being located quickly when an ambulance is waiting is unlikely.
Touchstone Life Care (TLC) advance care planning software makes it easy for residential aged care providers to create, store and retrieve Advance Care Plans when required.  From guiding staff in undertaking initial conversations with residents through to achieving one-click compliance for accreditation, there are numerous benefits for aged care providers who make the switch to the TLC digital solution.
Easily create and share Advance Care Directives
Many aged care providers download and print Advance Care Directive forms from government websites, which tend to be 15 to 20 pages long.  Having care staff and residents manually complete the form is time consuming, taking away precious hours and minutes from day-to-day care activity.   Coordinating witnesses and family members to have it signed and officially completed is also laborious and if a resident changes their mind about a particular decision or component of the plan, the whole process needs to start again.  With workforce strains already affecting the aged care industry, the effort required to complete Advance Care Plans results in them being side-lined or avoided.
TLC provides aged care staff with an easy to use, intuitive process to develop Advance Care Plans with residents, with no confusing 'legalese', taking less time to complete than cumbersome forms from health websites. TLC generated plans are legally accepted as a Common Law Advance Care Directive wherever you are in Australia.
As TLC Advance Care Plans are digital, aged care providers can trust that they have the most up-to-date version that won't get lost in transit.  The digital Advance Care Plans can be easily shared via a secure link with family, doctors and other trusted advisors. The link allows them to view a copy of the plan but does not allow them to edit or delete the document.
Sharing the Advance Care Plan with family members has the added benefit of potentially opening up discussion about the resident's wishes, thereby reducing the risk of confusion and conflict if and when a decision about medical treatment needs to be made.  Anyone with the link will be able to access the document at any time.
Built in guidance for residential aged care staff
Staff may be inexperienced and reluctant to undertake the type of conversation with residents required to complete an Advance Care Plan.  Whilst government sites provide resources such as fact sheets, this can result in more cumbersome paper to be printed and potentially misplaced.
With TLC, a staff member can sit with the resident with an iPad or similar device and take the resident through guided questions in a conversational format with easy-to-understand questions in simple language. Intuitive to use for both staff and residents, the software helps to identify and explain values and preferences for care through a guided conversation that starts with gentle questions and builds up to the trickier ones.
The software allows staff to stop and start at any time, saving progress until both the staff member and resident are ready to continue.
Secure and accessible at anytime
Lengthy forms prove to be burdensome in an emergency as doctors don't
have time to read page after page when making split-second decisions
about care.  Paper copies are easily misplaced in an emergency, or an
outdated copy may be the only one locatable.
TLC's digital Advance Care Plans can be accessed from anywhere at any time by:
QR code
Touchstone Life Care app
Inclusion in My Health Record
The final versions of Advance Care Plans present the most vital information on the first page so that doctors can quickly see what is required. Other important forms can be uploaded to TLC including a VAD, a care plan, medications, allergies, or goals of care. This provides one
source of truth for all these documents.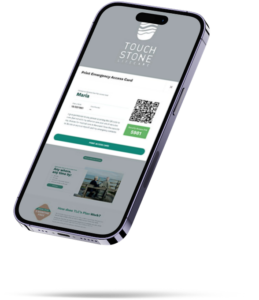 TLC complies with Australian Privacy laws regarding data security and follows best practice data security protocols. Individual user records are separated using access control lists, ensuring no user data is exposed to any other user. The final public connection to and from the server features AES 256 bit encryption. TLC servers are located in an extremely secure, PCI DSS approved data centre in Sydney, with access strictly limited to secure personnel only.
Future proofing for compliance
Residential aged care providers have a responsibility and duty of care to ensure they do all they can to understand the Advance Care Directive of each resident and to fulfil them to the best of their ability.
The government has enacted legislation that will help ensure advance care planning is one of the fundamentals of the aged care experience, and providers need to be aware of their responsibilities.
Aged Care Quality Standards
The Aged Care Quality Standards – Standard 2, Requirement (3)(b) – specifies that assessment and planning identifies and addresses the consumer's current needs, goals and preferences, including advance care planning and end of life planning if the consumer wishes.
In addition, Advance Care Planning Australia (ACPA) recommends aged care providers ensure that:
Aged care recipients are encouraged to think about and discuss their future health care preferences with loved ones and health care staff.
Aged care recipients have a clearly identified substitute decision-maker.
Existing advance care directive documents are available and transferable between care providers.
Recommendations from the Aged Care Royal Commission
Recommendations 68 and 66B from the Aged Care Royal Commission have both been adopted by the Federal Government.   Recommendation 66B requires staff of residential aged care services when calling an ambulance for a resident, to provide the paramedics on arrival with an up-to-date summary of the resident's health status, including medications and advance care directives.  Recommendation 68 requires every approved provider of aged care delivering personal care or clinical care to use a digital care management system interoperable with My Health Record.
What aged care providers need to do:
Aged care management requires a system for Advance Care Directives that is verifiably up-to-date, editable, legal, available 24/7 and able to be provided by the staff to paramedics on their arrival.
Providers need to show initial and ongoing assessment and planning in partnership with the consumer, that includes advance care planning and end-of-life consumer wishes.
Staff must demonstrate they understand advance care planning, and the needs and preferences of their individual consumers and residents.
Providers will need to verify all Advance Care Directives are up-to-date, the person had capacity to make decisions, and was not coerced.
To meet Australia's privacy guidelines and your data security needs, you should eliminate manual handling of documents that contain sensitive health Information, such as that found in Advance Care Directives.
Staff need training in how to facilitate advance care planning and how to use digital technology to create, edit and share Advance Care Directives.
Making the switch to digital
TLC supports organisations with a comprehensive digital advance care planning system and online advance care training designed specifically for aged care providers. TLC provides one-click compliance, with reports easily downloadable as evidence for accreditation purposes. Integrating with existing clinical IT systems, TLC is suitable for residential as well as home care providers, to assist in meeting compliance obligations.  TLC's digital training and technology is also eligible for tax rebates.
Book a demonstration today to find out more about why residential aged care providers are making the switch to digital advance care planning.