National Palliative Care Week runs from 21 May to 27 May 2023, aiming to put 'Matters of Life and Death' front and centre in Australia's consciousness.  In this article, Dr Merran Cooper, CEO of Touchstone Life Care, explains how and why palliative care is changing in Australia – for the better.
Palliative care in Australia is experiencing a transformative period. There is an increasing awareness of palliative care as more than simply end-of-life care. Australians are understanding palliative care is something far more holistic, that can significantly improve quality of life for a lot longer than just the end-of-life period.
In 2020, Touchstone Life Care undertook a survey of 768 people who had completed an online advance care plan.  The results showed that 70% of all respondents preferred to receive palliative care rather than 'futile medical treatment' during the last 6-12 months of life. Of those aged 85 or over, 50% stated their preference for palliative care in the last 12 months of life.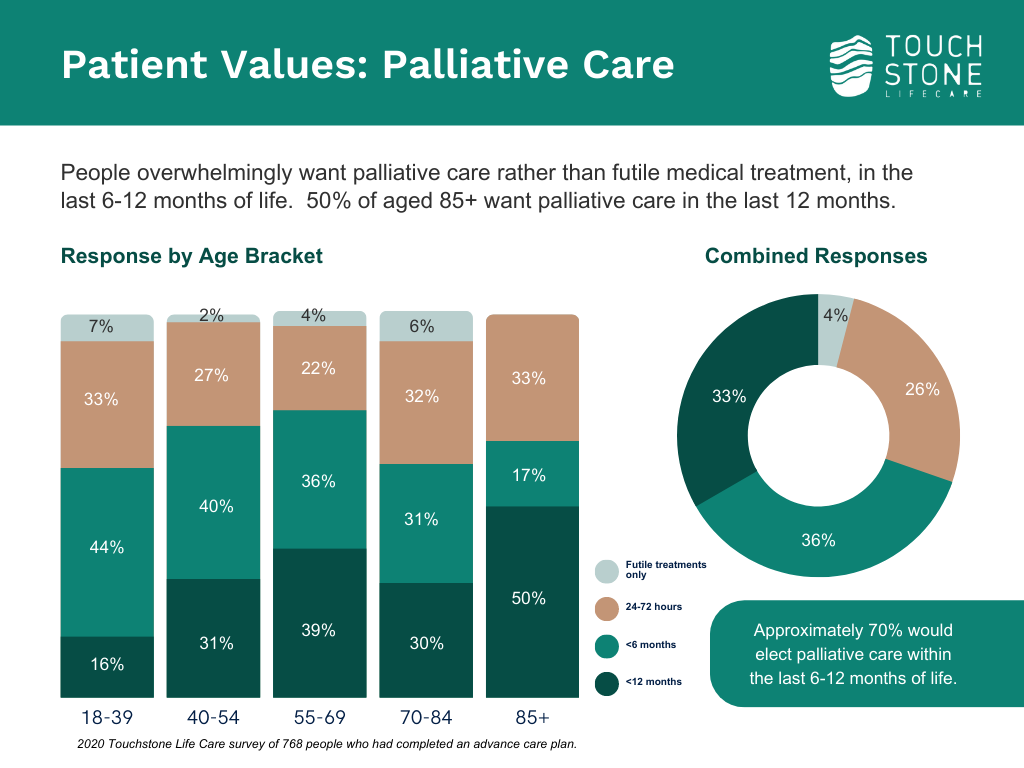 In the same study, 58% responded they would prefer to die where it was easiest for family and loved ones to visit, rather than specifying whether they would prefer to be at home or in a hospital.  With increasing age there was more willingness to die in a hospital or similar rather than at home.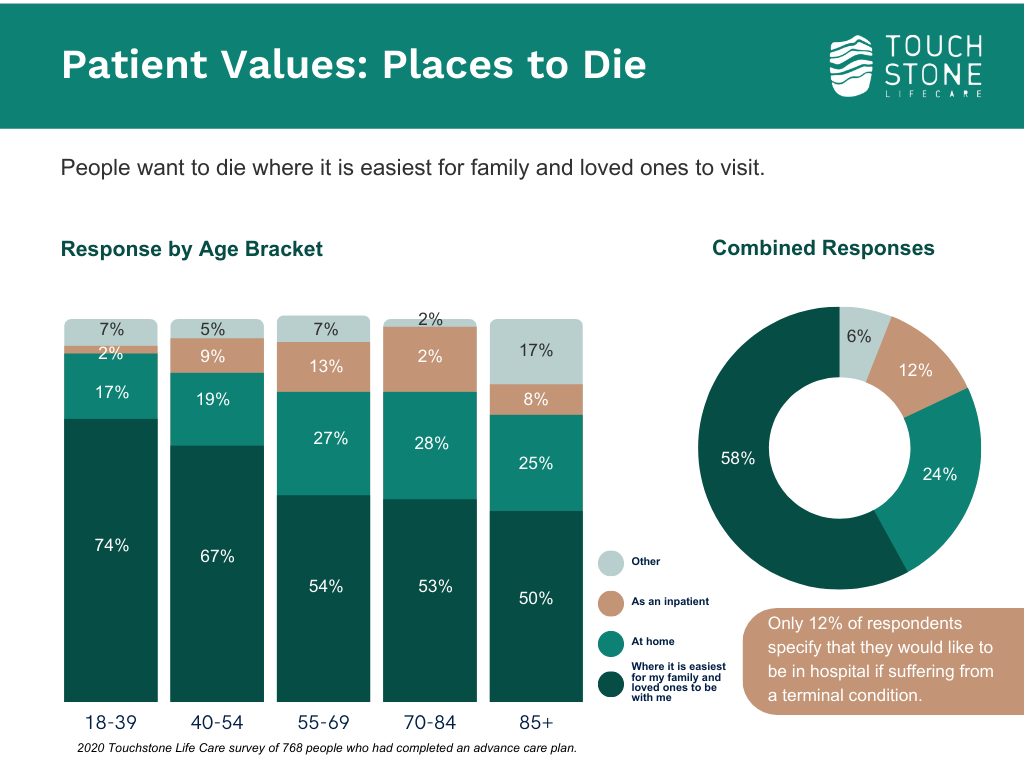 These results suggest that there are demographic and age-related factors that affect an individual's preference for palliative care, and that more work needs to be done to understand these differences. Choices about palliative care by a person living in a residential aged care facility will, understandably, be different to those made by someone younger living at home with more family members around them.
There is a growing recognition of the importance of culturally sensitive palliative care. Australia has a diverse population with many different cultural backgrounds, beliefs and values. It is important that palliative care services are tailored to meet the needs of each individual regardless of their background. This can involve involving interpreters or cultural advisors to ensure clear communication and understanding between healthcare professionals, patients and their families.
What role does technology play in palliative care?
The use of technology in palliative care is increasing in Australia. Telehealth services have enabled people in regional and remote areas to access specialist palliative care services, including consultations with doctors, nurses, and other healthcare professionals, medication management, and symptom management. These services can also be used to provide emotional and psychological support to patients and their families and to hold family conferences. This is particularly important for palliative care patients, who may have mobility issues or require frequent check-ups.
The development of remote monitoring and virtual diagnostics will also further assist people to be supported in the comfort of their own homes or in familiar surroundings.  Remote monitoring involves the use of technology to track patients' symptoms and health status from afar, allowing healthcare professionals to make adjustments to their care plans as needed. Virtual diagnostics, on the other hand, involve the use of technology to diagnose and treat patients remotely. 
Advance care planning is an essential first step in palliative care and technology can assist here too. Telehealth and videoconferences enable a live document to be available for viewing, discussion and editing.  This results in family members being able to have meaningful conversations about end-of-life planning, even when they live apart.
Finally, there is a greater focus on collaboration and integration between different healthcare providers and their IT systems to ensure seamless transitions between hospital, community, and home-based care.
What changes are happening in residential aged care in Australia?
One of the main changes in palliative care is the focus on improving access to palliative care services within residential aged care facilities. This includes training aged care staff in palliative care, as well as providing additional resources and support to ensure that residents receive appropriate care and support at the end of life. This change requires providing funding to facilities that are delivering this type of care. 
The Australian government has also introduced the Specialist Dementia Care Program,  designed to support people with dementia who have complex care needs. This program provides individualised care and support to people with dementia who are nearing the end of their life, as well as support for their families and carers.
What are the key new initiatives and programs for Palliative Care in Australia?
Key initiatives and programs include:
The National Palliative Care Strategy: 

The Australian government has launched a National Palliative Care Strategy to provide a comprehensive framework for improving palliative care across the country. The strategy focuses on improving access to palliative care, supporting carers and families, and enhancing the quality of care.
Palliative Care Funding: The Australian government has invested significant funding into palliative care services, including the establishment of the Palliative Care and Hospice Care Fund. This funding is used to support the development of new palliative care services, improve existing services, and enhance the quality of care.
Palliative Care Education: The government has also invested in palliative care education and training for healthcare professionals, including doctors, nurses, and allied health professionals. This ensures that healthcare professionals have the skills and knowledge to provide high-quality palliative care to patients.
Community Awareness: Community awareness campaigns are being run to increase awareness about palliative care and its benefits. These campaigns aim to reduce the stigma associated with palliative care and encourage people to access palliative care services early.
Palliative care is no longer just about pain management and end-of-life care. Thanks to a growing focus on patient-centred and holistic approaches, as well as increased funding, more people are learning that palliative care can improve their quality of life for months or even years after receiving a life-limiting diagnosis. By addressing patients' spiritual, emotional, and mental needs in addition to their physical symptoms, palliative care aims to provide comprehensive care that supports patients throughout their journey.